The main issue with a "useful product" is that you typically don't know you need them until you actually need them. By then, it's too late, and you're forced to fix the shower drain with a coat hanger—again! The question is: how does one prepare for moments of unexpected need? The answer: IMPULSE BUY!
For example: when your ice cream is frozen solid and ruining your spoons, you may regret not buying this self-heating ice cream scoop. Or, when you're on the train to work and realize you haven't brushed your hair — you may wish you had bought one of these credit card combs for your wallet.
Well, impulse buying is my speciality, and I'm here to share my bounty!
We love giving recommendations that help improve your life! In doing so, we participate in affiliate programs and receive a share of the revenue from your purchase.
---
Where do you store your broom, dustpan, mop, and other housework supplies? Are they shoved haphazardly into a closet, creating clutter? If so, you need this broom and tool mount from Berry Ave. It's super easy to install and comes with everything you need for under $15. Not only is it one of the highest-rated closet racks on Amazon, but it also comes with a 100% money-back guarantee—making your purchase worry-free.
---
Ladies and gentlemen, meet Baby Nessie—your new tea infuser. I seriously love this thing, and honestly, I love everything OTOTO creates. Not only is Baby Nessie cute AF, but it's also the highest-rated long-handled tea infuser on Amazon. The quality plus the cuteness makes this an absolute must-buy. We have two in our house!
---
I don't know about you, but the old-school towel hooks in my house are absolutely terrible. Whenever I toss a wet towel on them, it inevitably slips right onto the floor after drying. However, these awesome towel hooks (if you can even call them that) work by using silicone teeth to keep your towel from slipping. No tools are required, just peel off the adhesive tape and attach it wherever you need. Great for the kitchen, too!
---
Loose tea isn't for everyone, so I (kind of) understand if you skipped over Baby Nessie. But if you're a tea bag drinker, this squeezable filter will change your life — and not just because it's way better than using a spoon. It's actually the most practical tea bag strainer I've seen! Keep your hands dry and your tea delicious for under $10.
---
Find a new use for your empty plastic bottles with this bottle cap sprinkler from MyLifeUNIT. It has both spray and pour heads, making it easy to get the water where it needs to be in any amount. It's made to industry standards, so the threading should easily fit any empty name-brand bottles you have sitting around. Summer is here, so now is as good a time as any to get that garden going again!
---
While most people think brushing your teeth is the cure for bad breath, the "gram-negative" bacteria in the crevasses of your tongue is where funky odors actually come from. So the question is: do you brush your tongue? I hope so! If not, it's time to add tongue scraping into your brushing routine using this dentist recommended tongue scraper. Right now, Dr. Tung is extending quite the deal: 2 tongue scrapers and a traveling case for under $15.
---
All the plastic detergent bottles you ever used are probably just sitting in a landfill somewhere, chiefly because you didn't clean and recycle them. And what about those fabric softener bottles? Bleach bottles? Have you been rinsing those out? Yeah, I didn't think so. Let's take all those chemical bottles out of the equation by using these hypoallergenic Dreambly Organic 6-in-1 Laundry Sheets. They start their work in the washer as the detergent, color-safe whitener, and fabric softener; then continue into the dryer as anti-static sheets. The best part is everything is biodegradable, from the packaging to the sheets. Save the planet, save money, and save time with these bad boys.
---
I'm actually allergic to a number of different fruit skins, so I know a thing or two about peeling apples. It's an arduous activity that sometimes causes me to lose interest in eating the forbidden fruit altogether. I am, however, a sucker for well-made kitchen tools — which is why I couldn't say no to this beautiful apple peeler from Gorgenius. This thing is more of an appliance than a simple tool and makes peeling apples a breeze. Honestly, look at this thing.
---
Do you use your phone in the bathroom, you freak? What about your kids, do they use your tablet? Their hands are probably nasty. I feel like it's time you think about all the germs on all your device screens. They are probably so gross! You NEED to get them clean and sanitary, especially in 2022. Enter the HÄNS Swipe: a dual-action screen wipe that will clean and polish your screen, leaving your devices clean for the next swipe. It's reliable for thousands of uses and fully refillable, so it's truly the best choice on the market.
---
We've all dealt with frozen solid ice cream before. Not only does it bend your spoons, but it's more like chipping away than scooping. That's why you absolutely need this heated scoop that guarantees you'll never struggle with an un-scoopable rocky road again. That! Inventions have created some of the coolest kitchen tools I've ever seen, and this one is easily among the best. I really have no idea how it works because no batteries or heat sources are required. They claim it functions from the heat of your hand, but I'm more partial to the idea that it uses some type of witchcraft.
---
My dog hates the rain, to the point where he refuses to go outside if he sniffs out any type of precipitation. The solution? This dog umbrella from Lesypet. It attaches right to your pet's collar and acts as a leash, shielding your pet from the rain while also keeping them close. Problem solved, no more anxious Willy!
---
I love pasta, but it's so hard to gauge how much to make. I used to just estimate spaghetti by the handful until I discovered this marvelous pasta measuring tool. It works so well to help you portion control to an exact amount without using a scale that it actually helps reduce food waste! Never make too much or too little again.
---
I absolutely love hard-boiled eggs. The problem? Peeling. There are so many tricks and products to try, but most don't work as advertised — until the Negg Egg Peeler. Just place your hard-boiled egg into the Negg with some water, and lightly shake. Then, simply pop the egg out and slip the shell off — it's seriously that easy. Just don't shake too hard, it is an egg after all!
---
I'm an outdoorsy type of person, so I love going for multi-day treks through the woods with my pupperino, Willy. The hardest part of trekking is bringing sufficient lighting for the tent at night. Flashlights are heavy, unidirectional, and require batteries. Amazon supplied me with this awesome collapsible solar-powered lamp, allowing us to bring battery-free lighting wherever we go. Each charge lasts 6 hours, giving the pupper and I enough light to do our nightly rituals after the campfire dies out. It only weighs 4 ounces, so it doesn't take up any weight reserved for more important things — like dog food.
---
Are you looking to fill gaps in your cabinets, or between your washer and dryer? Pick up one of these 3-tier storage carts and activate all the possibilities your unused spaces have to offer. At only 5" wide, this bad larry can squeeze almost anywhere in your house, yet has enough space to store all types of things: canned drinks, canned foods, detergent; you name it! Keep the stuff you need where you need them.
---
I bet your cupboards could use some reorganizing. The longer we live somewhere, the more plates we acquire, and the more necessary it is to reduce clutter. This cabinet shelf organizer has solved so many of my problems that I can't help but add it to the list. It works well for dishes, bowls, cups, or anything else that may need its own small shelf to avoid unnecessary stacking.
---
Reduce your load and grab one of these handy iPhone cases with a built-in wallet. This thing is perfect for when you don't have a lot of pockets or a bag to stash your belongings. I always thank myself for getting this every time I'm snowboarding and want to grab a drink at the top of the mountain. Keep the wallet at home and just stash some cash in your phone case!
---
Speaking of wallets, what about this comb that fits in your wallet? Or it can fit in your phone case if you're thinking about getting one of the ZVEdang cases from above. The Go-Comb is basically indestructible, and you can even get yours customized with an engraved name. Not bad for $14!
---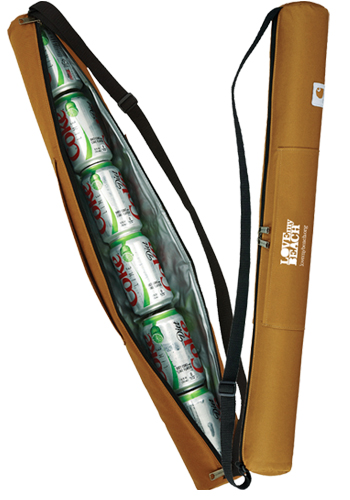 Who doesn't love drinking some cold ones with the crew in the beautiful outdoors? The problem is figuring out how to transport those frosty tallboys to the hang zone. Not anymore! Carhartt, the gold standard of workwear, now makes this awesome insulated beverage sling for all your outdoor drinking needs. It fits up to 6 cans and is made out of water-resistant insulated polyester, keeping all your drinks frosty without leaking condensation. Not to mention you're going to look totally badass with this thing.
---
Have you heard of the brand Rite In The Rain? They are an incredible company who created a line of products that make it 100% possible to write in the rain. Or upside down. Or on wet surfaces. As a writer, this miracle pen is an invaluable piece of technology. They also make actual waterproof paper too, making it possible for you to get all your work done in any location and with any weather.
---
Having a dead phone without a charging cable is the worst, especially if there's no one else around to borrow one from. That's why I grabbed this lightning cable on a keychain from Native Union. It has come in handy more times than I thought it would, honestly. It's a little more pricey than your typical cable, but it's so worth it. Apparently, independent testing has shown these cables to be 6x more durable than standard lightning cables, and it definitely shows.
---
Finally, you will be able to create drinks that look awesome with this layering tool by Vacu Vin. It works by letting each liquid slowly drip down the side of the glass, leaving the liquids to separate by density in layers without mixing. Your friends will be amazed! Heck, I'm even in amazement of my own work tbh!
---
Wow. Just wow. These toaster bags are a serious game-changer for my house, and I didn't even know they existed until the Amazon gods shined down on me! We have a celiac sufferer in the family who has been essentially unable to use our toaster — until now! The bag keeps the crumbs in but lets the air move freely, creating a perfect browning without the mess. Each bag is suitable for hundreds of toaster cycles, and you only have to simply wipe it down with soapy water and air dry after each use. These have been such a blessing!
---
Tupperware is good and all, but what happens when you put it in the freezer? Destruction, that's what! Fear not, fellow meal preppers, YEPPIKO has solved the problem with these durable leak-proof freezer trays. They're made out of sturdy BPA-free plastic that doesn't bend or buckle under the weight, but allows some expansion without breaking the seal. The only caveat is you can't use these in the microwave, but for that you can use this next product…
---
Let's face it, a microwave isn't the ideal device to cook meat. Presto decided to change that when they made this super handy microwavable bacon tray. Not only does it cook bacon to perfection, but it also strains the fat to give you the best crunch you've ever had from microwave bacon. Makes 12 strips at once, more than enough for a balanced breakfast.
---
Here's a situation: you're cooking pasta, then you leave the kitchen for one second and what happens? The water boils over and makes a huge starchy mess all over the stove. We've all been there. The solution? This awesome silicone guard that fits on virtually any pot. Simply use this as a lid on your steaming hot pot, and watch as your dinner resists breaching the top of the pot.
---
BUDDY SQUEEGEE is the cutest squeegee in my house. Not only is it cute because it's small, but it's got a little buddy as the handle (which someone in my house has drawn a face on). Buddy comes with a suction mount, so you can store him anywhere that has a tile wall — but it's small enough to fit in your glovebox, too! UMBRA is truly the king of silicone products!
---
Buddy might be good for bathroom and outdoor squeegeeing, but this Flex Rubber Squeegee (also from UMBRA) is perfect for small spills in the kitchen. This one is dishwasher-safe, so no need to worry about it becoming a gross sticky mess. All UMBRA products come with a 5-year warranty (so for both this and BUDDY), making it the safe choice. Pick up both of these squeegees and never use a paper towel for cleaning up liquids or unwanted moisture again.
---
Pulling my haircare products out of 5 different drawers and putting them all in a hanging basket was the best decision I've made this year — and I literally just got married (don't tell my spouse, please). This basket from Spectrum Diversified hangs from the door in your bathroom and has room for everything, including a side holster for your blow dryer. No tools required, just pop it on the top of the door and that's it!
---
Steam cleaning is one of the unsung heroes of a well-kept home. Ever since we picked up one of these PurSteam 7-in-1 Fabric Steamers, everything in our home has a fully refreshed feeling to it. Use it to steam your clothes and get out wrinkles, or steam your couch to remove dust and grime. This one is small enough to travel with too, so you can make sure you have a wrinkle-free vacation!
---
Anyone with a fur child will tell you the worst part about them is the hair they leave behind. Your clothes, your car, your couch — it can be overwhelming to say the least. Lilly Brush came along with this fur remover and solved the problem once and for all! It's essentially a squeegee for pet hair, which makes sense because squeegees are apparently my new obsession. It cleans off the fur better than a vacuum, so in the words of the top review on AMAZON: JUST…DO…IT!